An altered pen box for the Pollycraft Monday Challenge
It's Monday already and time for a new Pollycraft Blog Challenge. The Challenge theme this week is to decorate something other than a card that must include a stamped or a digi- image and lace and glitter.
This had me stumped for a few days and suddenly when I saw this pen box, inspiration struck!
I bought the pen box a couple of weeks ago at a Car boot sale for 50p.
I decorated both sides with stripey glittery My Mind's Eye paper and added a strip of lace. I stuck the paper on with double sided tape and sanded the edges for a neat finish. I also added a drop of glossy accents to the ends of the lace after I had stuck it on with narrow tape to stop it from fraying.
I covered the lid with the same papers, also sanding the edges and adding a strip of lace. The letters I used are beautiful glittery ones from American Crafts.
I used a super cute Kiki Fairy image and coloured her with Promarkers adding glossy accents to the flower on her head and glitter to her wings, wand and star.
As a finishing touch I added some flowers and buttons threaded with ribbon.
I hope you will be able to join us for this Challenge for the chance to win
It's a great prize, the kits are just scrummy!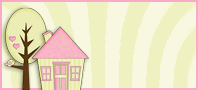 Make sure you check out the rest of the DT's amazing creations for some inspiration.
Have a lovely Monday!
Jane
x